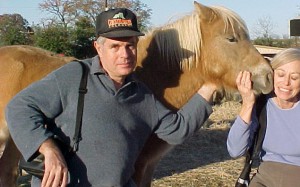 Launched in April 2006 as a 501 c (3) non-profit organization, Kinder Harbors Animal Sanctuary arrived as a multi-species animal sanctuary in development. KHAS's sequential stages of growth have been carefully and realistically mapped out. KHAS's services and programs have been designed to address the various needs of animals and in doing so, aiding their companion keepers. Services and programs will be implemented as financial resources and paid and volunteer staff become available.
KHAS recognizes the delicate and inseparable interrelationships that exist between the environment, animal welfare and protection, and the state of human health. KHAS's services and programs are designed to create healthy, supportive animal environments and simultaneously reinforce and enhance lifestyle situations of companion keepers. By helping to offset the debilitating effects of current day existence, Kinder Harbors fulfills a significant portion of its mission statement.
Kinder Harbor's Mission Statement:
Kinder Harbors Animal Sanctuary exists to continually improve, enhance and sustain the lives, health and quality of treatment of all non-human animals through the creation of natural habitats and sustenance environments and compassion-based educational programs and events.
The Board of Directors:
David Howard
Founder and President
Nancy Pinkston
Vice-President
Dedra Shaver
Secretary